The Help Menu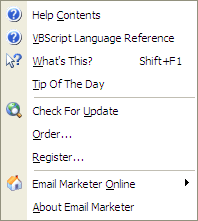 Help Contents
Opens the user's manual. That is, this document. In the help dialog, select the Contents tab to see a hierarchical list of topics; the Index tab to view topics listed in alphabetical order, or the Find tab for a full-text search of the Help system.
VBScript Language Reference
Opens the VBScript user's manual. The personalization script is based on VBScript.
What's This?
Shows "What's This" help.
Tip of the Day
Shows or hides the Tip of the Day window.
Check for Update
Checks for available updates for Email Marketer.
Order
Opens the ordering form. By choosing to register Email Marketer, your web browser will be be opened and you will be automatically directed to the reseller's web site.
Register
Once you have a registration key, this is where you type it in.
Email Marketer Online
Visits the home page of Email Marketer.
About Email Marketer
Shows version, registration and copyright information for Email Marketer.