Tracking Service
Email Marketer Tracking Service is an online HTTP service for monitoring the opening of messages and the clicks on the links in a message. With the tracking service, Email Marketer can provide you with real-time email clickthru and HTML open tracking reports.
Email Marketer Tracking Service works with Email Marketer Business Edition only.
You may either rent the service hosted on Nesox Solution's server or order the tracking service program and install it to your own server.
To request a 30-day free trial tracking account, please visit http://service.nesox.com.
To learn more details or order the tracking service, please visit http://www.nesox.com/en/service.asp.
Enabling Tracking of a Campaign
Click the Advanced, Tracking Settings button from the message editor to specify a tracking server connection to track message opens and link clickthrus.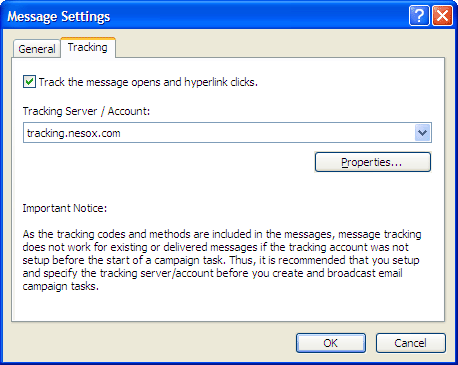 If no connection is selected, the tracking feature will be disabled; else, Email Marketer will automatically connect and notify tracking requests to the selected tracking server.
Tracking Results
To retrieve tracking results from the tracking server and integrate them into the project, simply click the Refresh button of the Reports tab. You will be prompted with "Tracking results were successfully updated by N records!" after the retrieving.