Service Monitor
Email Marketer Service Monitor helps control the scheduler service and the subscriber service. Since you must leave the scheduler and the subscriber running all the time in order for it to work, this option has been designed to keep the Service window out of the way of the way while you complete your other work.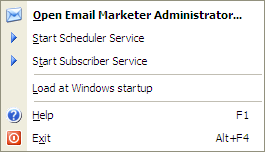 To start Email Marketer Monitor, please click Start -> Programs -> Email Marketer Business Edition -> Email Marketer Monitor.
To close Email Marketer Monitor, right-click on the monitor icon and select Exit.
By default, Service Monitor launches automatically when Windows starts up.